Social media is at the heart of every business and is the powerhouse to generating greater online visibility in what is already a highly saturated market.
As Junior Social Media Executive, you will be responsible for managing our client social media campaigns alongside our Social Media Manager. You will carry out your activity on platforms such as Facebook, Twitter and Instagram, developing our client's profiles and creating long-lasting social campaigns that generate a high volume of traffic and social engagement.
From overhauling existing social media profiles to ensure each accurately reflects the said businesses values, style and tone of voice, to creating daily content to share on each channel and completing a monthly content calendar to organise your workload, you will manage each campaign on a day-to-day basis and be committed to bringing new, exciting ideas to the table to further boost their visibility.
Be an avid social media user who has a good understanding of the different platforms including Facebook, Instagram, LinkedIn and TikTok.
Managing and growing multiple social media account across multiple channels.
Monitoring and reporting on social media campaign success and providing detailed insights into what has worked and why.
Continuous market research on current and coming trends that are relevant to each business.
Interest in developing their social media skills from an organic and paid marketing perspective.
Willingness to go the extra mile to ensure campaigns achieve the desired results from an organic and paid marketing perspective.
Creative mind.
Excellent time keeping.
Noticeable passion for digital marketing, specifically social media.
Excellent attention to detail and a high level of organisation and diligence.
Strong oral and written communication skills with both colleagues and clients.
Results driven, self-starter with a strong sense of ownership and winningness to go the extra mile to get things done.
Working for a multi-award winning agency
Fully remote working
Top of the range laptop to work from
Competitive salary
Company pension scheme
Opportunities to progress if you're up for the challenge
Training sessions galore across multi disciplines
Increase in holiday with length of service
Opportunities to speak at industry events & conferences as well as in-house webinars
We will pay for you to attend industry events, conferences & workshops such as BrightonSEO, Women In Tech, SEJ esummit
Free books, want to learn something new? Simply let us know and we will order it for you!
Premium Perkbox account covering medical, insights, perks & recognition
Opportunity to be involved in our charity events for our chosen charities
Birthday gift & the afternoon off on us
Treats on your anniversary
Regular socials, events & team building Friday afternoon feel good meeting with drinks
Benefits & Perks
Fully remote working (anywhere within Europe*)
Opportunities to progress if you're up for the challenge
Training sessions galore across multiple disciplines
Opportunities to speak at industry events and conferences
A Premium Perkbox account covering medical, insights, perks and recognition categories.
The opportunity to be involved in our charity fundraising events
A birthday gift and the afternoon off on us
3 additional wellness days provided each year
Opportunity to take part in a professional PT session each week
Early finish on the last Friday of every month
Confidence coaching with ROAR Training
Annual festival – Absolute Fest – with accommodation and travel provided
Regular social events and team building activities provided for free
Quarterly in person meet ups for the whole company
Sanctus mental health coaching membership
Absolute Early Bird or Absolute Owl working hours offered to suit your lifestyle
Monthly company-wide "feel good" meetings
4 Years At Absolute
No two days are the same at Absolute; you could be working on a campaign one day and doing something completely different the next. It's fast-paced, but that's what makes it so enjoyable. Hard work really does pay off and it's great that all success is recognised even if you think you are just "doing your job". Colleagues celebrate with you, regardless of their seniority or role within the team. Nothing is too much or too little for the team to handle; everyone is willing to jump in to get the work done and generate results. There are also some amazing training and progression opportunities available if you're up for the challenge - think conferences, event speaking, progression within your role (or department!) and personal and professional development opportunities with leading figures in your field.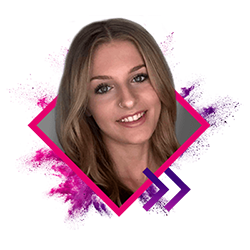 5 Years At Absolute
Working at Absolute offers a work hard, play hard mentality. The growth of the agency has led to an intrinsic employee-led atmosphere, driven by the fantastic management team. We work as one unit to push and support each other to achieve the best results. Absolute isn't just a job. It's a place to craft your career, make a name for yourself and offers an opportunity to surround yourself with industry-leading marketing brains. If you're looking for an agency to grow within, to support you tirelessly with your professional development and an exciting workplace, then Absolute is the place to be.