What a month! September was a huge month for the agency. We had fun participating in our quarterly team meeting which was complete with nothing less than another cocktail making masterclass and wrapping up our week with a spontaneous team trip to Amsterdam – not to mention our new exclusive private healthcare perk! It's been a busy one. Check out what you may have missed from us in September's marketing news roundup!
01. Top Tips For Building Client Relationships That Last
Building lasting client relationships is key. Not only for you, as an account manager, but for your business or agency. Whilst some clients prefer to keep things straight to the point, there are ways to build a closer bond even with those who try to keep small talk to a minimum. In this blog Senior Account Manager Lewis explains more of his top tips.
02. Our Latest #AbsoluteTwitterSpace with Nick Eubanks!
We were back with another Absolute Twitter Space this month speaking with the one and only Nick Eubanks. We had a complete blast speaking about all things brand and business positioning and were even able to nab some top tips ourselves! Don't worry if you missed the episode – you can catch up here and replay the talk on our YouTube channel. Be sure to sign up to our next episode!
03. A Technical Solution To Content Duplication
Our Head of SEO, Rising Star of the Year and all-round content queen, Sophie Brannon, recently done a talk at #brightonSEO on content duplication. If you were unable to make if or watch the replay online, you're in luck! Sophie has poured all her expertise into one easy-to-read blog breaking down the steps to a technical solution to content duplication. You'll definitely want to bookmark this one!
04. Best Agency Culture: Absolute Digital Media
We strive to provide the very best agency culture for our A-Team for both new and existing team members. With this in mind, we took the opportunity to speak with some of the team about their experience working at Absolute Digital Media, their getting to know people within the agency and more. Check it out, here!
05. We Won At The UK Agency Awards
We were thrilled to be able to attend our very first in-person awards ceremony since 2019 earlier this month! We had an Absolute ball celebrating at the UK Agency Awards and are thrilled to have taken home three awards including Most Impressive Large Agency Growth, Best Agency Culture and Rising Agency Star, which was awarded to our Head of SEO Sophie Brannon. Read more about the night!
06. We're Finalists At The European Agency Awards!
Alongside our amazing few wins at the UK Agency Awards, we are buzzing to have been nominated for not one, but nine awards at the European Agency Awards. Check out what we're up for in this blog!
07. We Now Accept Crypto Payments!
As of today, we are accepting crypto payments! This announcement was months in the making and we are so pleased to finally be able to share the news we have been waiting to reveal. If you didn't catch our initial release about how we are moving forward with crypto payments, you'll want to read this one!
For more information, get in touch with a member of the A-Team today on 0800 088 6000
For more information or to discuss your own digital marketing requirements, call one of our expert team today on 0800 088 6000.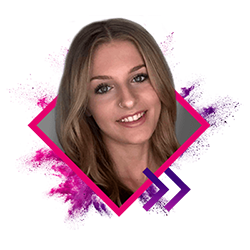 Jasmine has been a member of Absolute Digital Media's team for 4 years+ now, having started her journey at the agency as a Digital Copywriter and progressing onto become Social read more.